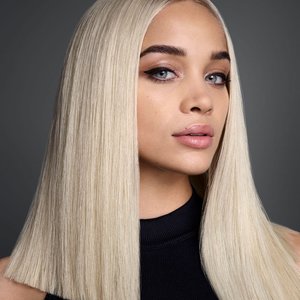 Haircolor
Glass hair - the newest celeb hair trend
07/02/2020
Glass hair - the newest celeb hair trend
Glass hair is the latest hair trend to take over Instagram and with Redken Shades EQ and Color Gels, it's never been easier for you to get your glass hair.
Instagram is the place to see the newest and hottest celebrity trends, it was hard to miss the glass hair trend worn by Kim Kardashian, Hailey Baldwin, Bella Hadid and a host of other hair influencers.
WHAT IS GLASS HAIR?
The latest trend to go from the 'gram to the real world is #glasshair – hair with mirror-like shine, preferably paired with a blunt bob and super-sleek styling. It's a sharp haircut that's styled to smooth, polished, shiny perfection. Essentially hair that looks like it was cut from glass.
HOW CAN YOU GET GLASS HAIR?
With Redken, it's easier than ever to emulate this trend thanks to Shades EQ and Color Gels and Redken's styling range, between them, there's a solution for every client – from vibrant color queens to natural beauties.
HOW CAN I GET THE SHINE FOR GLASS HAIR?
With Redken Shades EQ, you can achieve unbeatable glossy shine, unlike anything in the market. Even results are guaranteed, no matter how porous or damaged the hair is. And with ultimate color flexibility, results are personalized for each client.
Shades EQ offers demi-permanent color without lifting the hair, making it perfect for toning, refreshing or correcting color. With no ammonia, the gel formula respects the integrity of the hair and adds 100% more shine than before coloring for the glossiest A-list results.
WHAT IS DIFFERENT WITH COLOR GELS?
Color Gel Lacquers provide high-saturation color, with a permanent liquid lacquer shine. The low-ammonia formula combines advanced technology with exceptional, lasting results, adding unbeatable gloss and shine and achieving up to four levels of lift.
Available in 45 shades, as well as clear, Color Gels pair perfectly with Shades EQ Gloss for a quick and healthy color refresh – and incredible shine between permanent color appointments. And, thanks to the shorter processing time, clients can be in and out of the salon quicker than before.
We're not going to say the glass hair trend will be the easiest to recreate at home (you've got to commit to a blunt-cut bob or lob, first), but if you want a new look, grab some shine spray like Redken's Shine Flash 02 some or shine serum like Redken's anti frizz polishing cream Outshine 01, your round brush, and get glassing.
Try Shades EQ in a salon near you, find your salon here
WANT TO DYE YOUR HAIR COLOR BEFORE YOUR SALON VISIT?
Try on your dream hair color with Redken's virtual colour closet with over 70 shades. Click here to try before you dye!