Sometimes, to get a more balanced hair colour, an extreme change may need to occur. But don't worry – it just means it is time to meet with your hairdresser.
WHAT IS A COLOUR CORRECTION HAIR SERVICE?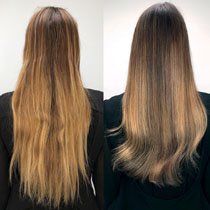 Similar to the way that colour correction can cancel out and neutralise uneven pigments in your skin when it comes to makeup, a colour-correction hair service works in a similar way. When done with a hair toner that has multiple uses, like Shades EQ, it not only works to address uneven color, it also addresses if the hair becomes too light, dark, warm or cool.
Consider the concealer palette in makeup. A peach concealer may be used to color correct purple under eye circles, dark spots or bruises. Similarly, your colourist can create a custom Shades EQ Gloss formula to address any hair colour need. During color correction services, your stylist may also need to use varying levels of services and different colour formulas.
"When receiving a colour correction service, it's important to work with a stylist that you trust." says Redken Brand Ambassador Cassandra McGlaughlin, "Be open to the process and trust your colourist. Discuss your expectations openly before the service begins and work with your colourist on a hair colour game plan."
HOW LONG DOES A COLOUR CORRECTION HAIR SERVICE TAKE?
How long a colour correction service takes varies, depending on the results you're looking to achieve and the starting point. The law of colour tells us for optimum results, we must have optimum condition of the hair, or as close as possible to that goal. A professional consultation is very important to determine if the goals are attainable.
The time needed to perform a colour correction hair service varies due to the specific nature and current condition of each hair type and additional visits may be required depending on how much you want to tone or colour-correct the hair.
"It's important to remember that colour correction is a process." says McGlaughlin, "It can often take several appointments to achieve desired results, but remember to trust the expertise of your stylist. Be open and honest with your colourist about your budget and expectations so that they can strategise your service."
DO I NEED A COLOUR CORRECTION HAIR SERVICE?
The first step to any successful service is a professional consultation. Explain to your colourist what type of change you are looking for, or show photos of the way your haircolour has changed over time, and leave the decision up to them. Your colourist will let you know what kind of service you need.
For more haircolour advice and tips, follow @Redken on Instagram! Get in contact with us here or find your closest salon here.