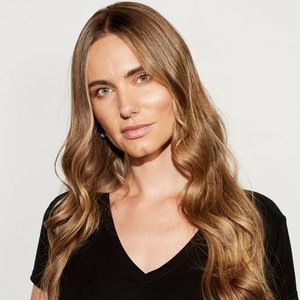 Haircolor
Blonde balayage
06/02/2020
Babylights
Frame your face with touches of sunkissed blonde for a contoured look. Babylights combined with new express blonde is a the perfect way to spruce up any brunette look in a flash! Combine with Shades EQ for unbeatable glossy shine and an a-list finish!
How long will it last? It's permanent, but will fade over time. Refresh in the salon every 8-12 weeks
Perfect for? Giving your usual brunette look a contoured finish
How long will it take? Express blonde is a super speedy blonding service which takes around 20 minutes. Total service time varies by hairdresser.

How can i look after it at home? We recommend our Color Extend Blondage color care system - click https://www.redken.co.uk/products/haircare/color-extend-blondage?initial=to explore the range!
Express blonde is for professional use only: Ask your hairdresser for this formula if you want babylights:
Stage 1: flashlift express blonde 1:1 mixing ratio with 30 vol pro-oxide
add pH bonder step 1 - 4ml for every 30mls
Stage 2: Shades EQ 09AA and 09NB 1:1 with processing solution + pH bonder step 1
Stage 3: Add pH bonder step 2
Stage 4: pH bonder step 3 at home
However, if you're looking for a subtle change without the commitment of permanent color, chat with your local stylist about Redken Shades EQ Gloss service. This quick and easy service is a great way to dip your toe into the world of haircolor since hair glosses are a form of demi-permanent color that work to condition, tone and revitalize the look of your hair.
Wondering what all of that means?
Well, before we dive into the world of hair glosses, let's chat about virgin hair and what it means for your first time coloring your strands.
What Is Virgin Hair?
In the world of haircolor, there are predominantly two types of hair: virgin and color-treated. Virgin hair refers to strands that have never been colored before. So, if you've never dyed, colored, highlighted, lowlighted, or in any other way changed the color of your strands, you have virgin hair.
What does that mean going into your first hair color appointment?
It means you have tons of options. Since virgin hair has never been chemically altered, it's typically healthier and easier to work with as far as coloring goes, which is great for a newbie like you.
As any stylist will tell you, having healthy strands means that your color is more likely to look sensational. By getting a hair gloss, you can help to ensure that your hair stays looking smooth, shiny and healthy long after you leave the salon.
What Is A Hair Gloss?
Hair glosses (LINK TO HAIR GLOSS ARTICLE) are a type of demi-permenant haircolor that help to refresh, tone, and enhance the look of your hair color. Wondering what demi-permanent means? Basically, it means that the color will gradually fade over time. The reason this happens is that the haircolor molecules simply coat the strands of the hair rather than dive deep into the hair's cuticle. By laying on top of the strand, the hair remains soft, shiny and smooth. What more could you ask for in a 20-minute service?
Color Application
Once you and your stylist have decided that a hair gloss is best for your strands, it's time to get to the application. Your stylist will start by applying the hair gloss from your roots to the tip of your hair. Don't be afraid of the color of the mixture being applied to your hair. The color that's being applied isn't necessarily the color of the end result.
After your stylist has finished applying every last drop of the gloss to your strands, the stylist is going to let your hair process. It's usually only 20 minutes so sit back, relax and read a magazine.
Once your 20 minutes are up, your stylist will take you to a shampoo bowl and rinse out the product. From there, your hair will be shampooed, conditioned, and styled to perfection.
Voila – gorgeous, healthy, and shiny haircolor! See? That wasn't so scary after all.