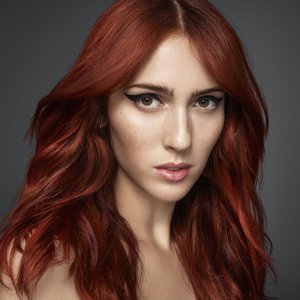 Haircolor
Why You Should Dye Your Hair Red
28/01/2020
We asked salon of the month Live True what red hair they are being asked for in salons and why you should take the plunge and dye your hair red this autumn.
What do you love about doing red shades in the salon on clients?
Red is a wonderful color to wear. It brightens up your features, adds extra shine to your hair and will also bring some warmth to your life. On some skin complexion, red colors will also show an extra glow. Autumn is the perfect season for reds.
Red attracts the light more than any other colors do, it will give clients a shine boost naturally and the hair will look more voluminous.
At Live True, we are fans of reds. It is always a happy challenge to create a red color on someone. There is a lot to play with and we can always plan a little twist in the techniques so that it looks different every time. For those shy to vivid reds, we can incorporate this through a soft balayage to make the look easier to wear.
What do you find most of your clients are asking for in salon? In color and style?
From warm browns to strawberry blondes going through intensely vivid red, there is a perfect shade for everyone.
A lot of our clients are requesting mahogany, natural browns with a red tone accentuated with intense red balayage and vivid reds mixed with warm colors created using a red palette.
Reds go with every style, natural curls to edgy haircuts, this color magnifies any hairstyle desired.
What are the biggest red hair trends and shades you are seeing right now? And what do you think of Redken's newest SEQ red shades?
The Shade EQ reds are best used after a lightening service. It's easy to incorporate those luminous red tones into a Live True London Balayage to get your color to a new level of intensity. Our color experts can incorporate the three new Shade EQ reds into panels through the hair. Lighter shades can be placed around the face to ensure that the features attract light. We love using Shade EQ as this color leaves the hair feeling healthy and strong.
Redken has added to their portfolio the most beautiful permanent red color with new Redken Color Gels. The intensity and purity of the color with Gels is incredible. The Gels are a more premium coloring product and we are able to achieve more lift and blending with these.
What products are the best to use for protecting the color?
In order to maintain vibrant, beautiful red, special thought needs to be placed on aftercare.
It is crucial to stay away from strongly cleansing shampoos such as anti-dandruff. Some moisturizing shampoos, conditioners and masks aren't advised either as they will open the cuticles and allow the red pigments to leave the hair more quickly.
Redken Color Extend Magnetics is the best range for anyone that needs to lock the red pigments inside their hair. In this range, shampoo, conditioner and mask combined will keep you safe for weeks. And the plus, the Color Extend Magnetics shampoo is sulfate-free! The One United spray is an all-rounder product that will protect your hair from breakage, act as a barrier against heating tools, is safe for all color treated hair, will control frizz and fly-away and has in total 25 benefits. All of those are available to be purchased in any Live True London salon.
What do you recommend to your clients to help them with this?
For those that wear intensely vibrant reds, the commitment to your color will have to be going up a level. As well as using the right aftercare, we would advise to return for a toner in between your full color services. This is where the brand-new Shade EQ Gloss red will play an important part. Your colorist will be able to refresh your tone and therefore prolong the vivacity of the red.
What's the biggest challenge clients will face when it comes to maintaining their red color and keeping it healthy?
The biggest challenge that we encounter as colorists is that to maintain a red color to its vibrant state, the client must have their hair in good condition. If your hair is too porous or too sensitized, the red pigments won't attach themselves to the hair, and they will leave quicker than you expected. If your dream color is red and you have been blonde for years or you have been using high heating tools to style your hair; the best advice is to go first for a consultation with your colorist so that they can assess your hair and recommend the best way to rebuild the condition and strength so that the color sits on a great canvas.
WANT TO DYE YOUR HAIR COLOR BEFORE YOUR SALON VISIT?
Try on your dream hair color with Redken's virtual colour closet with over 70 shades. Click here to try before you dye!