Haircolor
Tips for going blonde while keeping your hair healthy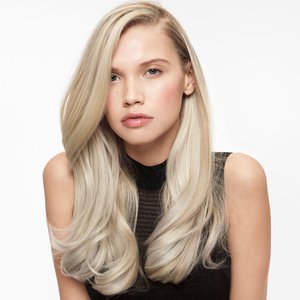 7 Questions to ask your stylist before you color your hair
Tips For Going Blonde While Keeping Your Hair Healthy
Once you go a new shade of blonde, you may never want to look back. For hair, it's not just a big step aesthetically, but physically as well. Chicago-based Redken Artist Twylla Jane says any and all color, from permanent color to lighteners for going blonde, can change how your hair feels. This doesn't mean don't go blonde. It just means go blonde with all the knowledge you need to rectify the damage and get stocked up on purple shampoo.
Treat Any Underlying Hair Issues
Since hair is going to be effected by going blonde, it's important to get it in its healthiest state before going blonde.
"Anytime you color hair, you're going to strip moisture and protein, so if your hair is weak or dry before you start the color process, you want to try to heal that beforehand," Jane says.
Ask your colorist if you're in need of treatment and then, try something like Redken's Extreme Anti-Snap Leave-In Treatment for Damaged Hair or anything your colorist recommends from the Extreme Line.
Test First
Before you dive into the blonding process, have your colorist lighten a piece of your hair. Jane says this is highly recommended, as it can tell you and your colorist how quickly your hair lifts—or reacts—to lightener.
If your hair lifts easily, you'll see a nice blonde right away, which tells you that going blonde should be an easy process. If your hair doesn't lift easily, you'll most likely see an orange color, which simply means you might have to start with a honey blonde or a strawberry blonde before getting into a light ash blonde or a platinum blonde.
Going Blonde? Know Your Options
There are a few different ways hair can be colored with lightener. Your stylist can color your hair from root to tip via foils or balayage, a method that's often thought of as painting the hair.
Anything in foil lifts faster, so Jane recommends this if you're trying to get a light ash blonde.
Balayage, however, will give you a lot of dimension and is best if you're looking for your hair to have different shades of blonde.
Ask your stylist to try Express Blonde services if you are looking for a quick 20 minute refresh blonding service. Great if you are short off time or a brunette looking to take the going blonde journey slower with gradual balayage.
Keep Your Hair Healthy at Home using purple shampoo and purple conditioner between salon visits.
Purple shampoo and purple conditioner: they're not nice-to-haves for blondes, they are must haves. The great thing is that you don't have to sacrifice brighter blonde for conditioned, healthy hair. Color Extend Blondage Purple Shampoo and Purple Conditioner work together to tone out brassiness, help strengthen and moisturize damaged, bleached hair and deeply condition to smooth the cuticle for shine. The Triple Acid Protein Complex within the system helps you kick brassiness to the curb and say "yes" to strong and bright blonde hair. Here is a hot tip: Toning is completely customizable, meaning you can tone more often and longer (5-10 minutes) for a cooler, ashier effect, or less frequently and for a shorter period of time (3-5 minutes) for quick anti-brass for every level of blonde.
WANT TO DYE YOUR HAIR COLOR BEFORE YOUR SALON VISIT?
Try on your dream hair color with Redken's virtual colour closet with over 70 shades. Click here to try before you dye!