Haircolor
9 Brunette ideas to shake up your haircolor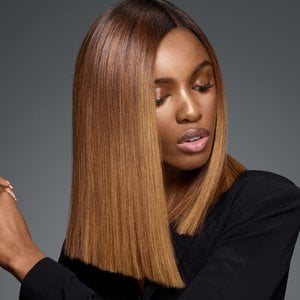 9 Brunette ideas to shake up your haircolor
9 Brunette ideas to shake up your haircolor
With spring just around the corner, you might be ready to refresh your look. Even if you don't want to stray too far away from your natural hue, you can still put a new spin on it. Stumped for brunette haircolor ideas? Here are nine brunette haircolor looks that are the perfect inspiration for your next salon appointment.
1. Tortoise Shell Brunette
Instantly warm up your shade of brunette by asking your colorist to add caramel tones using an ombré technique. It's perfect if you've been coveting the look of golden blonde hair but aren't ready to take the plunge. The best part is it requires minimal upkeep—since the roots are kept dark you can embrace the regrowth. If your hair is naturally on the dry or coarse side, you can help keep your caramel color looking shiny and feeling soft by using a leave-in hair lotion.
2. Roseberry Brunette
Just because you're rocking brunette hair doesn't mean you can't experiment with color. Asking your stylist for roseberry burgundy highlights can enhance your brunette and add a sense of drama. This haircolor looks best when styled in smooth waves, so use a leave-in smoothing oil serum to help keep frizz at bay and protect hair from heat styling.
3. Brunette With A Pop Of Color
If you're feeling daring, adding a bright pop of color is the way to go. This is ideal if you aren't ready to commit to a full-on vivid look but still want to accent your hair. To keep it subtle, ask your stylist to place colorful balayage highlights underneath your hair for a hidden surprise. Maintain the vibrancy of the highlights and deep condition by using a hair mask for color-treated hair.
4. Gilded Brunette
For curly hair types, a gilded brunette look is a gorgeous option. The look features brunette hair with blonde highlights that make ringlets pop and reflect shine. With this haircolor, you can have sun-kissed hair year-round and confidently show off your curly hair texture. Since curly hair tends to lose moisture easily, you can add hydration back into your hair by using a tissue mask cap for five to ten minutes on freshly washed hair.
5. Milk Chocolate Brunette
See yourself with blonde highlights but aren't sure how to make it work with naturally dark hair? This look includes a flattering blend of blonde and brunette shades that are sure to turn a few heads. Since the blonde highlights go all the way up to the roots, they are noticeable and contrast the brunette base perfectly. A transformation like this will require your stylist to lighten your hair, so it's best to use a post-color system like Extreme or Color Extend Magnetics in the first two weeks after your appointment. The three-step system can help protect and strengthen hair that may be on the weaker side after a highlighting service.
6. Chrome Brunette
Give your brunette look an edge by adding smokey neutrals to your hair. To get the color, your stylist can place chrome pieces underneath your hair with subtle babylights framing your face.
7. Chocolate Brunette
Switching up your hair doesn't always have to mean reinventing the wheel. Sometimes, all you need are a few chocolate lowlights to add depth and dimension so that your hair has more movement. Since this haircolor is so dark, take advantage of the glossy look by using a leave-in conditioner that helps add shine.
8. Chestnut Brunette
If you're working with fair skin and have always wanted to be a redhead, chestnut brunette hair is an opportunity to test out the look before fully committing. The look involves color-blocking with thick chestnut highlights framing the face. To keep the red tones in this haircolor looking as vibrant as possible, shampoo hair with a sulfate-free formula like Color Extend Magnetics.

9. Ash Brunette
Keep it cool with this striking ash brunette haircolor. A mix of small babylights and highlights help the ash stand out against the dark base. This color looks especially stunning with olive complexions because the ash helps balance out the skin tone. For softer hair after your highlighting service, use an argan-oil enriched shampoo and conditioner.
To find more haircolor inspiration and ideas on how to change up your look, follow @Redken on Instagram!
WANT TO DYE YOUR HAIR COLOR BEFORE YOUR SALON VISIT?
Try on your dream hair color with Redken's virtual colour closet with over 70 shades. Click here to try before you dye!