Haircare
Why you should start using blue shampoo for brown hair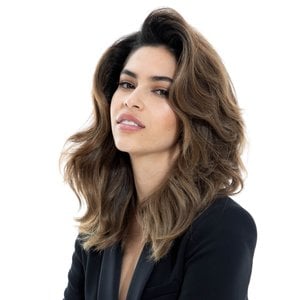 Think toning shampoo is only for blondes? Think again! For all the brunettes out there, if you're not using blue shampoo, you're missing out. We're taking a look at blue shampoo and exactly why it needs a place in your shower.
What is blue shampoo?
You've probably heard of purple shampoo, the color-preserving cure for blondes. Perhaps you've even been using it up until this point because the choices for brunettes were limited and you didn't know what else to use, hoping it was helping you fight brassy tones. It's time to make the switch from purple to blue for good if you are brunette, because we're here to tell you that purple shampoo is not meeting your brunette color needs like blue shampoo is about to. Blue shampoo was designed specifically for those with natural and colored brunette hair, in order to ensure that your shade is kept brass-free and beautiful. Using the same color chemistry that pairs purple shampoo with blondes, blue shampoo works to cancel out shades of red and orange undertones, it works to neutralize and counteract warmer tones which have the unfortunate habit of showing up in your locks, especially after a color service, or exposure to the elements. By adding blue shampoo into your hair care routine the progressive technology will build up to prolong cool tones.
Why use blue shampoo?
Blue shampoo is an effective and easy way to counteract the brassiness in your hair and keep your brunette color looking healthy, vibrant and on point. When you lighten brown hair, whether it's with highlights, balayage, ombre or full coverage, the process requires bleaching to remove the color. This can expose orange undertones and result in an unwanted brassy effect. Even if you go the other way, and darken your hair instead of lightening it, as the color fades, this can also leave behind orange undertones. To counteract this effect, your best option is using a color-depositing, toning range, designed specifically for brunettes: blue shampoo. By using blue pigment, toning shampoo and conditioner you can extend the life of your color significantly, while caring for your hair at the same time.
How long does neutralization last?
This depends on the hair's porosity, the condition of your hair and how regularly you wash it. Use Color Extend Brownlights daily to achieve your desired cool result. Then as needed to maintain your cool tone. Results have shown that the neutralization will last much longer, extending the life of your brunette shade. Substitute your range for Color Extend Magnetics on days you don't use Brownlights.
The best haircare routine for your locks
No need to wait a few weeks after your color service, Color Extend Brownlights was designed to be used directly after you've changed your color and for daily maintenance. The sulfate-free formulas feature a new progressive color deposit technology composed of blue pigment. It's important to note that it does not contain any brown pigment, so it will not impart any brown coloration onto your hair. When used daily, the color depositing dye gradually builds up and fights brassy tones and warmth that usually starts to appear 4-6 weeks after your color service. How regularly you use it depends on the condition of your hair, your base color and the shade of brunette you've chosen. Experts recommend incorporating this range twice a week into your haircare routine to gradually fight brassiness until you achieve the cool tones you're after. Chat to you stylist about your hair care routine for more personalized information according to your locks.
Benefits of Color Extend Brownlights include:
●

Helping to neutralize unwanted warm and brassy, orange undertones through progressive usage

●

Helping to maintain color-treated brunettes color and keep it true-to-tone, immediately after a trip to the salon

●H

elping natural brunettes gradually neutralize unwanted warm tones that arise after exposure to sunlight and environmental elements

●

Helping to nourish your locks and add softness, shine and manageability.
How to incorporate blue shampoo into your routine
Step 1: Start with the right blue shampoo
Begin with Color Extend Brownlights Shampoo, a toning haircare system with blue pigment, featuring an aromatic fragrance with notes of lime zest, waterlily and vanilla. This anti-brass shampoo was designed for both natural and highlighted brunettes. Apply to wet hair, lather and leave on for 3-5 minutes. Rinse.
Step 2: Condition with care
With notes of notes of rose, bergamot and jasmine, Color Extend Brownlights Conditioner makes your hair look as good as it smells. This anti-brass conditioner was also designed for all types of hair, from natural to highlighted brunettes, ideal for those looking to banish unwanted warm tones and maintain a cool tone end result. Apply to damp hair after shampooing. Leave on for 5-10 minutes. Rinse thoroughly to reveal your beautiful, brass-free brunette.
For those who wash their hair more frequently, it's recommended that you alternate with Color Extend Magnetics for any additional washes. This sulfate-free range was designed to protect and care for your color, providing added shine and enhanced color vibrancy. The key ingredients in this range target the root, core and tips of your strands, to restore and strengthen your locks and to make your brunette stand out.
Keep your brown hair vibrant for longer with blue shampoo, designed specifically for all your brunette needs and extend your routine by adding in Redken's newest hero product One United. This multi benefit all-in-one, treatment has 25 benefits in three key areas: manageability, protection and beauty. It's a must have for everyone's hair care routine, delivering instant results and improved manageability for all hair types and textures.
You can shop the range here or find in your local salon here.