Haircare
Redken | 02/06/2020
TOPICS:
Why you should start using blue shampoo for brown hair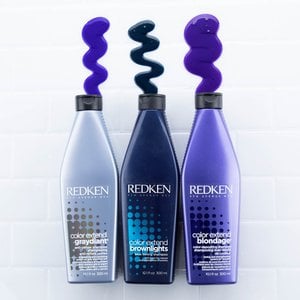 Redken tells you why you need to start using blue shampoo on brown hair.
In the world of haircare, few things are as dreaded as brassy tones. Cropping up at the worst of times, it's the last thing you want to find in throughout your hair. Enter: blue, silver and purple shampoo the products you need to fight brassy tones. From blonde to brunette, and all the different techniques in between, you can benefit from this anti-brass, toning shampoo to keep your hair the color you want it to be. So whether you're a color-changing pro, a shade-switch up newbie or you've never colored your hair before, we've got you covered on what you need to know.
What is the difference between blue shampoo, silver shampoo and purple shampoo?
Firstly, before we get to how they differ, it's important to know that each of these types of toning shampoos are used to fight brassy tones by delivering color-depositing pigments into your hair, in order to help keep your color cooler for longer. Each type of anti-brass toning shampoo is designed for a specific hair color in mind, all based on the color wheel, in order to counteract any brassiness that may appear.
The color science is simple. Blue toning shampoo is designed for brown and brunette hair to neutralize any unwanted shades of red or orange from appearing, and cools warm tones. As blue falls directly opposite red and orange on the color wheel, this color shampoo is the best for those with brown and brunette hair to counteract unwanted brassiness.
Silver shampoo is designed for those with gray or silver hair, and as silver is opposite yellow on the color wheel. This shampoo fights brassy tones of yellow that can appear in your gray locks, and take away from your color.
Thirdly, purple shampoo is used for blonde hair or those with blonde highlights. Once again and coming back to the color wheel, purple helps to neutralize brassy hair shades of yellow which threaten the longevity of your blonde hair, by cooling warm tones.
Why does brassiness occur?
It all comes down to color chemistry. When you color your hair shades lighter than your original color (includes highlights and ombre), it involves the process of bleaching, which removes or dilutes the color pigment from your hair. After bleaching, the new color is deposited onto your strands and toner is used to lock it all in. Once the color starts to grow out or after multiple washes, brassy hair tones tend to show up. Exposure to the sun and other elements can also speed up the appearance of brassiness. On top of this, blue color molecules are smaller, meaning that they're broken down more easily and fade quicker with every wash. And even if you go the other way and add color to darken your base hair color, as the color fades, orange undertones tend to crop up. This is where toning shampoo comes in, designed to fight brassy tones, and maintain your color for as long as possible.
What's the best anti-brass, toning shampoo for me?
Now that you understand the basics about which anti-brass toning shampoo is right for which color, here's how to incorporate it into your haircare routine. The formulas all feature a new progressive color depositing technology used to gradually prevent brassy hair tones and warm undertones that usually start to appear 4-6 weeks after your color service. It keeps your salon color cooler for longer. Experts recommend using the right range for your color twice a week, however usage can depend on the desired amount of toning. For those who wash their hair more frequently you can alternate with Color Extend Magnetics by Redken for any additional washes. It's best to chat to your stylist about what you're looking for, in order to ensure you're happy with your color result.
Blondes
For blonde hair experts recommend the Color Extend Blondage range from Redken that contains a color-depositing shampoo and conditioner and mask, it's the easiest and most effective way to keep your color where you want it and take control of your shade of blonde. This range contains ultra-violet pigment to tone blonde hair and neutralize unwanted shades of brassy yellow, and Triple Acid Protein Complex tones to strengthen and fortify the hair cuticle for less breakage. It leaves hair shinier, softer and easier to manage.
Brunettes
For brunettes you need Color Extend Brownlights. The exciting new range from Redken designed just for you. Its star ingredient is a blue pigment and can even be used on highlighted brunettes or balayage hair. This color-depositing, blue toning shampoo and conditioner neutralizes unwanted orange and brassy tones in brown and brunette hair and can be used directly after your hair color service to extend the life of your beautiful brunette shade. It also works well on non-colored hair, helping to keep your natural brunette hue cool and free from any brassiness. This range nourishes and hydrates hair, for soft, manageable locks that make your brunette shade shine.
Grays/Silvers
Whether you've gone gray deliberately or are choosing to rock that natural look, you can always benefit from Color Extend Graydiant. This violet and silver pigment shampoo and conditioner is ideal for brightening gray and silver locks, especially those prone to dullness and yellow brassy tones. After use, your gray hair is left looking and feeling brighter and healthier.
Say goodbye to brassiness with the right toning shampoo for your hair hue. Keep your color radiant for longer, straight from the shower!
To finish your look use Redken's newest hero product One United. It's an all-in-one, multi-benefit treatment that and provides 25 benefits in three key areas: manageability, protection and beauty. Delivering instant results and improved manageability for all hair types and textures.