Haircare
The best shampoo for brassy hair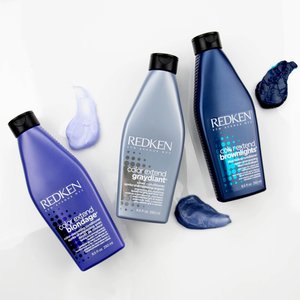 When it comes to fighting brassy hair your best defense is using a toning shampoo and conditioner, created specifically for your hair color. This blog will cover the best pro-approved ranges and exactly how you can implement them into your haircare routine and lifestyle for vibrant, gorgeous hair results.
Why does brassy hair occur?
Brassiness occurs as a result of a color shift. When you dye your hair, it requires a lifting of your base color, especially when going from a dark base to a lighter hue. After exposure to the sun and other elements, washing your hair and other factors, the color starts to fade and warm tones start to appear, leading to brassiness. In order to counteract this a toning shampoo using clever color chemistry technology can really help.
How does a toning shampoo work?
A toning shampoo is designed to fight brassy tones through color depositing. For those with blonde silver or gray hair, warm tones tend to have a yellow undertone. As violet is the opposite of yellow on the color wheel, blondes should opt for a purple toning shampoo. Through the use of a purple shampoo, you can retain your cool blonde hue for much longer. The same rule applies for those with gray or silver locks. Using a silver toning shampoo is the ideal way to maintain your cool shade and counteract any appearances of yellow. For brunettes brassiness and warm tones usually appear as shades of orange or red. Your best bet (going back to the color wheel) is to use a blue color depositing shampoo to cancel out these unwanted brassy tones.
What's the best shampoo for brassy hair?
This depends on the amount of color in your hair. Pros recommend using a color-depositing shampoo twice a week, but usage depends on the desired amount of toning. You can alternate your routine with the Redken Color Extend Magnetics range when you're not using a toning shampoo or conditioner, to ensure you're always treating your color correctly.
Blondes
For those with blonde hair, blonde highlights, blonde ombre and blondge balayage, opting for a toning, purple shampoo is the best option to counteract brassiness. It'll also ensure that you prolong the life of your blonde tones, keeping them cooler for longer. Experts recommend Color Extend Blondage range from Redken, the ideal way to take control of your blonde, saying goodbye to brass.
The range includes a sulfate-free, color-depositing shampoo and conditioner designed with key ingredients like ultra violet pigment to minimize unwanted brassy and yellow shades, and tone blonde hair. It also includes a Triple Acid Protein Complex, amino and wheat protein to strengthen and fortify the hair cuticle for less breakage, a common side effect when pre-lightening.
A healthy, anti-brass routine should go a little something like this:
Brunettes
If you are a brunette or have low lights brown shades or balayage, the best range for you is blue, in the form of Color Extend Brownlights, to banish unwanted warm tones. This toning haircare system with blue pigment is designed to be used immediately after your salon service to prolong the cool brunette color and gradually fight brassy, orange undertones through daily use. The anti-brass, color-depositing range was designed for natural and highlighted or full-coverage brunettes, to keep your color looking healthy and vibrant for longer. When used regularly, the color deposit gradually builds up to prevent warm and brassiness, which tend to occur 4-6 weeks after your color service. Your haircare routine is as simple as two steps:
Silver or gray-haired
Color Extend Graydiant by Redken was designed for those with natural or colored gray or silver hair, to keep the color looking radiant for longer. If you have gray or silver hair that is prone to dullness and yellowing, then this range is for you. It contains violet and silver pigments to brighten silver and gray locks, the shampoo and conditioner feature a progressive color deposit system to ensure the result is natural, and long-lasting. The brightening, direct dye technology cancels out yellow tones and deposits custom silver pigments while its key ingredients provide nourishment and re balance the texture of your locks for easier manageability. And all your haircare requires this:
Take control of your color with the best shampoo and conditioner for brassy hair, and say no to brassiness in two simple steps. See our full toning range here