Haircare
How to get silver hair and how to maintain it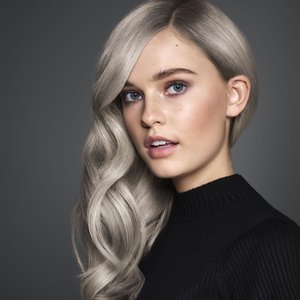 We ask Cult and Bloom's Max Dolat how to get the biggest trending hair on Instagram and how to maintain it using Redken's launch Color Extend Graydiant
What do you love about the silver and grey hair trend?
I love how striking the silvery grey hair trend is. How every grey color is different and creative. Every person has a different shade of grey.
Do you think silver hair is a hair trend that can work for all ages?
Absolutely; it's a hair color that has a high fashion statement for younger people, and for the more mature client with a case of 'salt & pepper' tones, it gives a much cleaner, modern and youthful look, without being harsh and still embracing their grey hair. As long as it compliments the individuals skin tone, eye color and/ or style in general, it can work for any one of any age which is what makes it such a versatile and striking look.
What do you find most of your clients are asking for in salon? In color and style?
Most of our clients are asking for balayage for blonde natural hair or bleach and tone with 90% wanting to go ashier silver or white.
What's the biggest challenge clients with grey hair face when it comes to maintaining it and keeping it healthy?
Getting the right amount of protein and moisture. Protein to prevent it becoming weak and moisture for giving shine and getting rid of frizz. The other problem can be if a client is using too much purple/silver shampoo which can make the hair muddy and sometimes even green. Finally, an additional issue is toners fading and becoming dull, so there is the upkeep for clients to bare in mind.
What do you recommend to your clients to help them with this?
For weaker hair clients that want to have a perfect balance of condition and tone, the combination of Color Extend Blondage shampoo and conditioner, and Extreme Anti-snap are great. For the naturally grey haired client, and those who's hair is chemically treated, frizzy and dull I recommend them to use Color Extend Graydiant shampoo and Color Extend Graydiant conditioner for brightening and nourishing the hair.
For the upkeep of the tone, in addition to the toning shampoo and conditioner, I recommend that they visit between services for a toner top up.
What products are the best to use for protecting the hair color and combating the natural wiry texture that comes with grey hair?
Pillow Proof Express Primer and One United are brilliant pre-blowdry primers for colored hair, and Align 12, combined with Diamond Oil Glow Dry is a perfect combo for smoothing and softening the natural wiry texture of those with grey hair.
What do you think of Redken's newest launchColor Extend Graydiant designed for people with silver/grey hair?
More and more clients are choosing to embrace their grey hair, they don't want to cover it with tint or highlights and we see more and more young people asking for metallic silver hair that they see on their favourite celebrities like Rihanna, Cara Delevingne and Lady Gaga and all over social media. The launch of Color Extend Graydiant is perfect for those clients to brighten and nourish grey hair while keeping it manageable.