Haircare
Brassy Hair: Why it happens and how to prevent it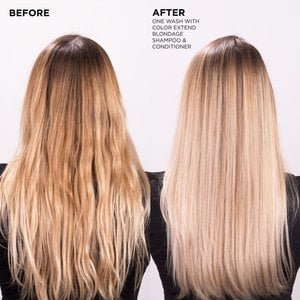 Weeks after coloring your hair blonde, you start to notice something strange: the shade you left the salon with is no more, and now your hair has taken on an undesired yellow, orange or red tone. What gives? Brassy hair, that's what.
Brassiness refers to the unwanted warm tones that show up in colored hair. It typically happens in dark hair that gets dyed platinum or blonde, but it can also occur in hair that's been highlighted or in hair that's been lightened to brown.
To understand why this occurs, you'll need to understand what's happening during the whole hair lightening process. To lift dark hair, bleaching with a mix of ammonia and peroxide is usually a necessary part of the equation. When hair is bleached, melanin, a dark brown to black pigment, gets diluted in a process known as oxidation.
After bleaching, the next step is usually to apply your hair color, which deposits artificial pigment onto your locks while removing some of your natural color.
Brassy hair color becomes a problem when bleaching or lifting doesn't get rid of all the underlying pigment in your hair, giving the warm tones an opportunity to reveal themselves. For lightened blonde hair, the underlying pigment is yellow, and for lightened brown to black hair, the underlying pigments are orange to red. When the brassiness starts creeping up, think of it as your natural hair telling you, "Hey, remember us?"
When brassiness occurs, that also means that among the red, yellow and blue color molecules your hair dye contains, the blue ones have made a faster departure, leaving—you guessed it—just the warm tones. Since the blue color molecules are smaller, they're broken down easily and fade quicker with every wash. Unfair.
Fortunately, you have several options when it comes dealing with brassy hair, in terms of both preventing it and fixing it after it happens.
Start off by choosing the right permanent color
In your consultation in the salon your colorist will help you to select a cool hair color, like one with the word "ash" in the name, since it's less likely to turn brassy than one that's warm. If you gravitate toward warmer shades, don't worry; there are plenty of lighter hair colors you can pull off that have a good balance of cool tones.
Get a Toner for brassy hair
Toner, a translucent deposit of hair color that fades in a few weeks, isn't just great for altering your hair color without the commitment. It can be a great brassy hair fix, too. Also known as demi-permanent color, glaze or gloss, toning can correct the unwanted yellow, orange or even red tones lingering on your hair since it contains just enough pigment to improve your hair color. Plus, the service will enhance the shine levels of your strands in the process, so you'll be doing your hair multiple favours in just one sitting.
Redken's Express Blonde service, which can be used as a toner for brassy hair, does all of the above and raises the hair cuticle, giving hair volume and texture and improving manageability in the process. Plus, the Express Blonde toning service can take as little as 20 minutes.
Just remember that a hair gloss yields only temporary results. The good news is you won't have to deal with that obvious growing out period situation with your roots like you might have to deal with if you decide to color your hair all over again.
Wash your hair with color depositing shampoo and conditioner to neutralise unwanted warm tones.
Need an at-home brassy hair fix? If you're blonde, go for a purple shampoo and purple conditioner, and if you're brunette, go for a blue-tinted one, try New Redken Color Extend Brownlights, since yellow is opposite to purple and orange is opposite to blue on the color wheel. Try new Redken Color Extend Blondage purple shampoo for a brighter stronger blonde.
Avoid the sun and the pool
We know, we know: how can you say no to the pool and soaking up some rays? But if you want your hair color to stay put, it's best to stay away.
The chlorine commonly found in swimming pools can strip your hair dry, leaving your locks dull and damage-prone. And when hair becomes damaged, your hair color will have a harder time staying in place, meaning more opportunities for brassy hair color to show up. Use Redken Color Extend Magnetics and Redken Color Extend Blondage, both ranges have protection from chlorine.
Use a shampoo for color treated hair the rest of the time.
Since overusing a color-depositing hair product may end up turning your hair blue or purple, only use it once a week. The rest of the time, apply color-protecting hair products, like Redken Color Extend Magnetics Shampoo or Redken Extreme shampoo and Redken Extreme Conditioner, since they're gentler than regular shampoo and tend to not include sulfate, which can fade hair color.
Invest in a shower filter
Washing your hair with water that leaves a large amount of mineral deposits, including chlorine and iron, is bad news for colored hair since the build-up is drying and the chemicals could end up fading your hair color, leading to another opportunity for brassy hair to reveal itself. A shower filter can help cut down on the mineral deposits, so your hair color stays around for longer.
Need some cool-toned hair color inspiration? Browse through @Redken on Instagram for a picture to show your hairstylist.
See all Redken toning shampoo's here
Find in salon here