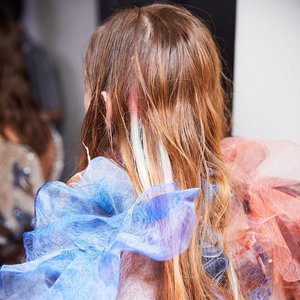 Haircolor
What is cloud hair?
11/02/2020
What is cloud hair?
What is cloud hair?
'Color Clouds' is the name given to a hair coloring technique that was created by Redken Global Creative Colour Director, Josh Wood backstage at Mary Katrantzou's AW19 show. The technique is a combination of intense color that blurs and blends out to the palest colour on the edges. This technique is perfect for those with a lighter base – the darker blondes through to those that are platinum.
The hair color was debuted on 20 models as part of Mary Katrantzou's stunning FW19 collection, showcased at London Fashion Week. The bespoke hairpieces were hand-painted and perfected by Josh Wood and his creative team in his Holland Park Atelier over five days using Redken City Beats mixed to make the unique tones.
"Mary has sectioned her collection into four worlds – each representing an aspect of the four elements; earth, wind, fire, and water. We've created two patterned hair techniques; 'color clouds' and 'horizon color' to work alongside and enhance her creative vision", says Wood "'Color clouds' is a combination of intense colour that blurs and blends out to the palest colour on the edges. These pieces were added to the models that have a light hair base – the dark blondes through to the platinum. For the darker haired models, 'horizon color' pieces were inserted into their crown and hairline. The extensions are saturated at the roots – in ink, emerald green, or purple violet – and faded out in reverse ombré to a paler end of hair."
For those with darker hair, the technique 'Horizon' was created. Hair is saturated at the root in greens, violets and faded our in reverse ombré to a paler end of the hair. The resulting palette is a variation of seafoam, morning dew, sky blue, cracked earth, sunset coral and pink 'Color Clouds' and 'Horizon' were created using Redken City Beats color exclusively. This range of semi-permanent colors has 14 stay-true hues that let you unleash your boldest look. No-mess cream formula for easy application and long-lasting semi-permanent results.
How do I get cloud hair?
Book into see one of the colourists at the Josh Wood Atelier in Notting Hill, London.