Haircare
How to disguise thinning hair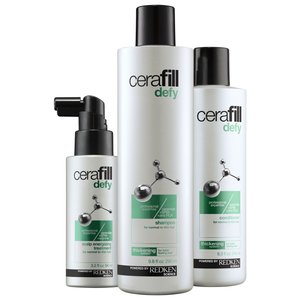 What is hair thinning?
Hair thinning is the result of a process called hair miniaturisation. This is when the hair starts to thin progressively until eventually the hair follicle stops producing hair at all. Whilst it can affect everyone, it is more common as you get older and affects men and women slightly differently. Male hair thinning will follow a fairly set pattern; either starting at the temples and working backwards, or beginning at the crown and spreading outwards. In women there tends to be less of a pattern and can be spread over a bigger area in a less consistent manner.
Why does hair thinning happen?
Lots of factors are at play for why hair thinning can occur in both men and women. It can be linked to change in hormone levels, genetics, stress, ethnicity, nutrient deficiencies or can also be due to underlying medical problems. For women, a change in hormone levels postpartum can also contribute towards thinning hair.
What can you do about thinning hair?
If you can't pinpoint why your hair is thinning, it's always best to seek medical advice first. Then, work with your Redken stylist on a cut and style that will make the most of your hair. "If you are a man experiencing male pattern baldness you should always talk to your stylist about your concerns. They'll be able to see it anyway so talk to them about adjusting your style accordingly. On men I always keep the hair line softer, which can disguise the tell-tale signs and then going short once it gets really thin." Says Larry King Redken UK style ambassador
It's also time to give your hair some extra TLC. Thinning hair is fragile and prone to breaking so try and avoid being too vigorous with it. For women cut down on things like backcombing, the frequency you're using heated styling tools and even avoiding certain styles like really tight and high ponytails and top knots as these put a lot of pressure on the hairline.
Can products make a difference to thinning hair?
Yes they can! The Redken Cerafill Defy system has been designed for thinning hair, it has been shown to plump up each hair strand by 9% after just two applications*. Then there is the Redken Cerafill Retaliate that contains ceramide, menthol and a unique ingredient called SP-94 and is designed for people with more advanced thinning. Whilst the Redken Cerafill Dense FX Spray gets to work even faster and creates instantly thicker looking hair after just one use thanks to wonder ingredient, Filoxane, which deposits onto the hair fibre to instantly bulk it up. However it's also about using products with longer term gains. By using a conditioning treatment like Redken Extreme Anti Snap, once or twice a week continually, you will help strengthen hair from future damage.
Is hair thinning reversible?
This really depends on why your hair is thinning. If you have postpartum hair thinning then once your hormones have returned to normal levels, the amount of hair you are shedding will stabilise and any patches of hair that have thinned out may return to what they once were. Otherwise, products alone cannot make new hairs grow but they can make existing hairs look thicker and fuller.
*Instrumental test. Measurements of hair thickness after 2 applications of product on bleached hair vs non bleached hair.
You can shop the range now here or find in your local salon here