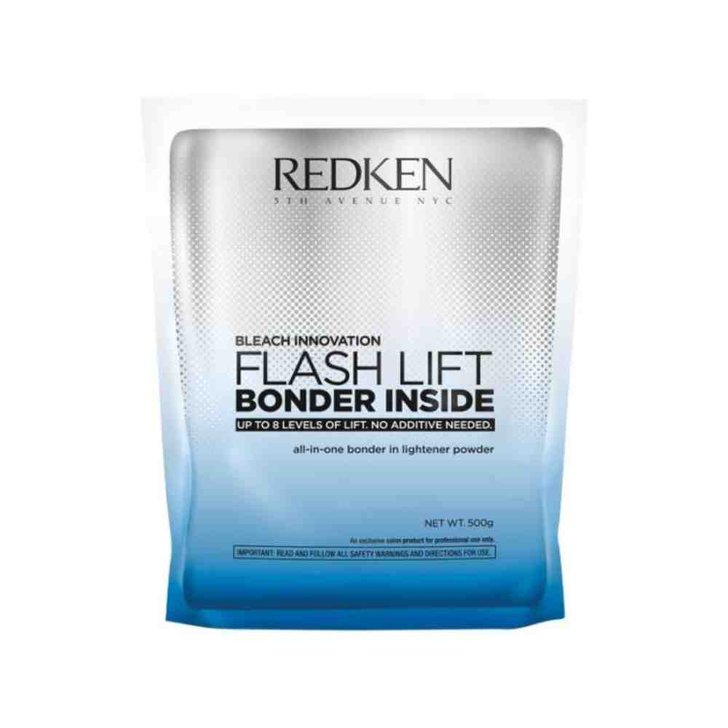 Lighteners
Lighteners
Flash Lift Bonder Inside
All-In-One Bonder in a Lightening Powder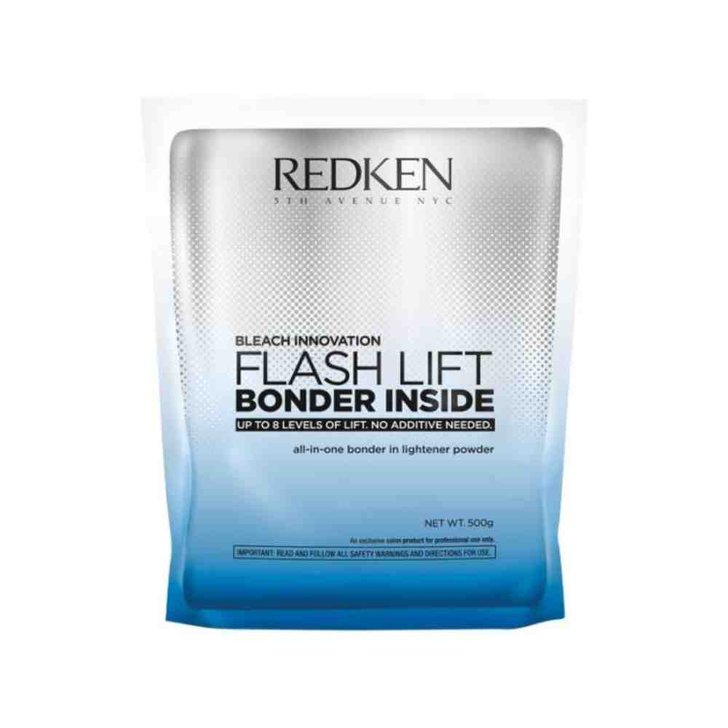 All-in-one bonder in lightener powder. Up to 8 levels of lift and no additive needed.
WANT TO LEARN MORE ABOUT FLASH LIFT BONDER INSIDE?
Get education at your fingertips 24/7 on Access. To watch inspirational videos, learn trending techniques, book a course or explore e-learning modules click HERE.
DETAILS
All-in-one bonder lightening powder

Up to 8 levels of lift

No additive needed

Formulated with Citric Acid/Glycine complex to shield disulphide bonds to reduce breakage

Improved elasticity, touchable smoothness, and visible shine

For use with plastic wrap, balayage film and/or meche

Suitable for fine, medium, or coarse hair

No added fragrance
HOW TO USE
Use only with Pro-oxide Cream Developer 10, 20, 30, or 40 volume.

Mixes in a variable ratio of 1:1 to 1:20 for optimal consistency for variety of applications.
PREPARATION
Wear suitable disposable gloves. Mix product in well-ventilated area. Put the recommend amount of Flash Life Bonder Inside and Redken Pro-oxide Cream Developer in a non-metallic bowl. Blend until smooth consistency is achieved.
OFF SCALP APPLICATIONS:
Use 10-40 volume (maximum)

Ratio from 1:1 to 1:2 depending on desired consistency.

1:1 30g of powder + 30ml (1oz) developer

1:1.5 30g of powder + 45ml (1.5oz) developer

1:2 30g of powder + 60ml (2oz) developer
(When using 1:2 for off-scalp application, use only up to 30 volume maximum)
On Scalp 1:2 30g of powder + 60ml (2oz) developer
ON-SCALP APPLICATIONS:
10-30 Volume (maximum)

Recommended mixing ratio: 1:2 30 g. of powder* + 60 ml (2 oz.) developer
DEVELOPER TIME:
Up to 50 minutes determined according to the desired results or until the hair reaches pale yellow

Do not use heat
APPLICATION AND RINSING
Wear suitable disposable gloves

Do not use metallic tools (clips, combs, etc.)

Rinse and shampoo the hair well after development time

Do not let the product run onto the scalp for off scalp applications
ALUMINIUM FOILS
When performing highlights with foil application exclusively use foils ref Soft Alloy 8079, 20um, or Soft Alloy 1200, 18um (Norms EN 573-3).
** Please note the measuring cap is the measuring device for the lightener powder
To measure 15g you need to fill the cap to 15g measure line inside cap

TO measure 30g fill the cap to top measure line inside the cap